QtPi was established in 2016 and since then it has collaborated with 40+ schools, providing training in Robotics and STEAM. QtPi has achieved significant results across the schools it is collaborating with by providing not just theoretical knowledge but also by providing practical and hands-on experience with the kit provided by it. In 2018 QtPi had collaborated with one of the prestigious schools, Acts Secondary School.
Vision : "Our vision is to make children think innovatively and come up with various solutions to the day-to-day problems using technology and Robotics, Inherit the knowledge and apply it in various fields and come up with distinct and innovative ideas to improve the quality of life and for the betterment of society in a sustainable way".
Mission: "To introduce emerging technologies in Robotics and make students come up with their own ideas and projects based on their learnings, promote e-learning pedagogy and lead the teachers and students towards a better teaching learning process.
Moto: "Our motto is "Take on the world!!" As we always encourage our students to dream big, we wish to instil the quality of aiming high in our children's minds."
To Know about [QtPi Robotics] (https://www.qtpi.in/)

The students of class 9th had actively worked on their new innovative project ideas such as Prototype of Chandrayan Rover, Agro Bot, Smart Bin and had completed it successfully. They presented their projects in mega events like Bangalore Tech Summit (BTS) and Parents Teachers Meetings (PTM).
Students presenting the Prototype of Agro Bot to the visitor

Students presenting the Prototype of

Chandrayan Rover to the visitor

Student with their STEAM faculty in BTS

Students sharing their ideas with their peers

In the month of November, the students participated in the Bangalore Tech Summit event and actively presented their innovative projects to all the visitors and delegates present there and were immensely applauded for their efforts.
Projects Names and Members :
Master Naveen, an 8th Grade Student from ACTS Secondary School, Bengaluru was one of the winners of the ideas submitted to 'Ideate for India - Creative Solutions Using Technology' held in the year of 2018. It was a national challenge by the National eGovernance Division of Ministry of Electronics and Information Technology of Govt of India and Intel India.
Ideate for India: Idea that can save nature!
Master Naveen's Mother Joy knew no bounds!
(Student Naveen receiving the Prize and the Certificate from the School Principal)

In order to prevent forest fire and save the forests from disasters, he had came up with an unique idea wherein when this system detects a fire or smoke above a particular level it will alert or inform the Forest Department, Fire Service Department and the other related Departments to put off the fire and take the necessary measures required. Thus such timely actions could save our Nature.
Naveen's mother shares her experience on his achievement of Award from Intel India
Mrs. Malar mother of 15-year-old Master Naveen, who is recognized by Intel India for his contribution in the Ideate for India competition. As like any other parent she too wants him to do well in school and do great things as an adult. QtPi is committed to support and empower such innovative youths.

In the month of July 2019, a badge designing competition was conducted by QtPi on the theme of QtStar Team. The competition was conducted across all QtSchools and three students from Acts Secondary School were selected under the top 40 winners and awarded with a cash prize of ₹500 each. We congratulate the winners who made a tremendous effort in making the badge designs.
The Winners are:

ACTS School students exhibited many interesting projects to visiting parents and students.
Many interesting ideas were displayed by the students, some of them were as follows-Soccer Bot, Voting Machine,Fish Feeder etc. Parents and Teachers were very excited and happy with the presentations.

Students created their own Innovative projects such as Rover and AgroBot which were greatly appreciated by the visiting parents and the teachers.

ACTS Secondary School conducted PTM on 21 Dec 2019.
Students displayed various interesting robotic projects.
For the first time, students created a Santa Bot which attracted the spectators a lot. It was an
interactive bot which welcomed the visitors to the QtLab and asked their names. It also wished
Merry Christmas.

Kids playing with the Chandrayan Rover Prototype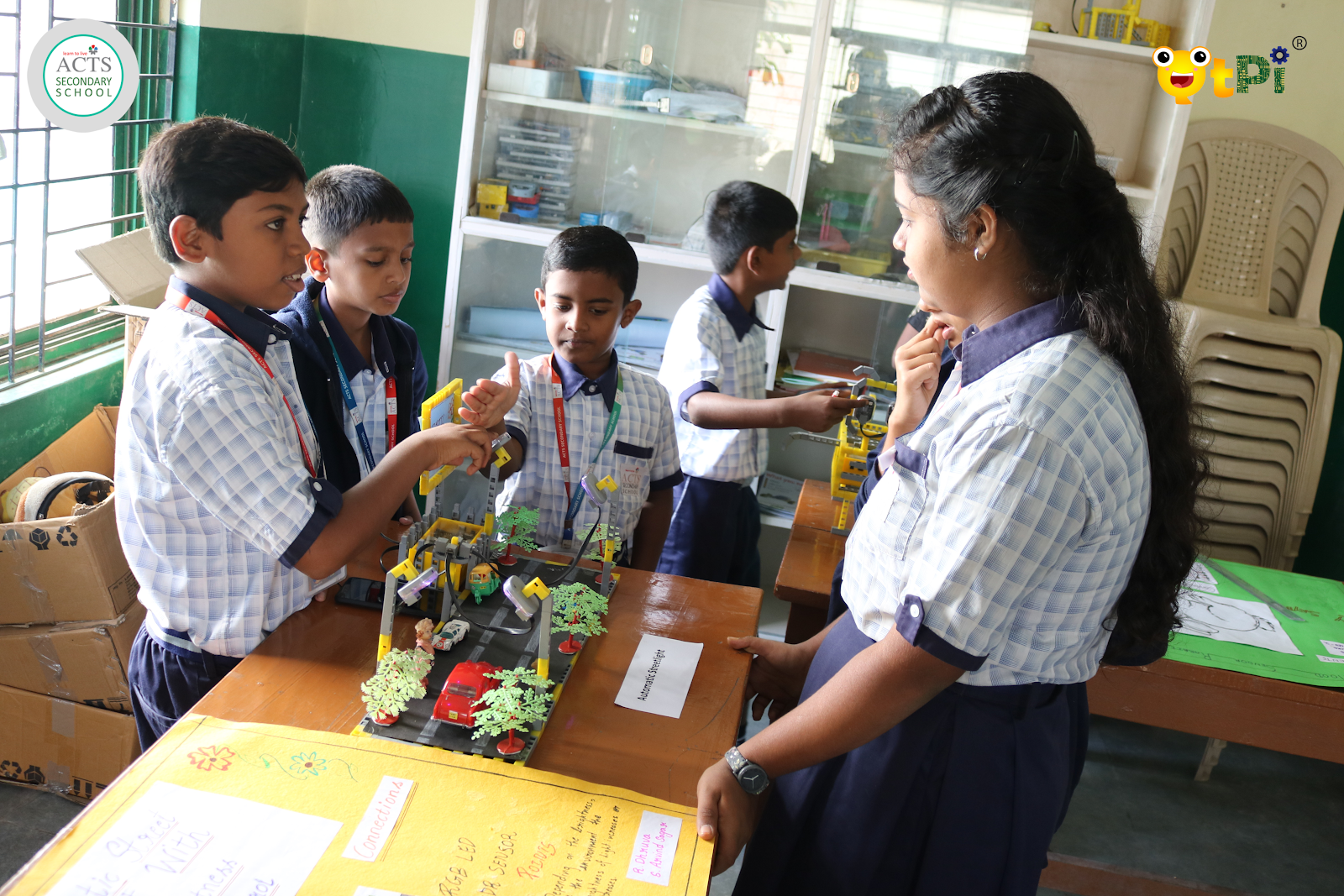 Students of class 7 presenting the Automatic Street Light project to their senior
Demonstration of Agro Bot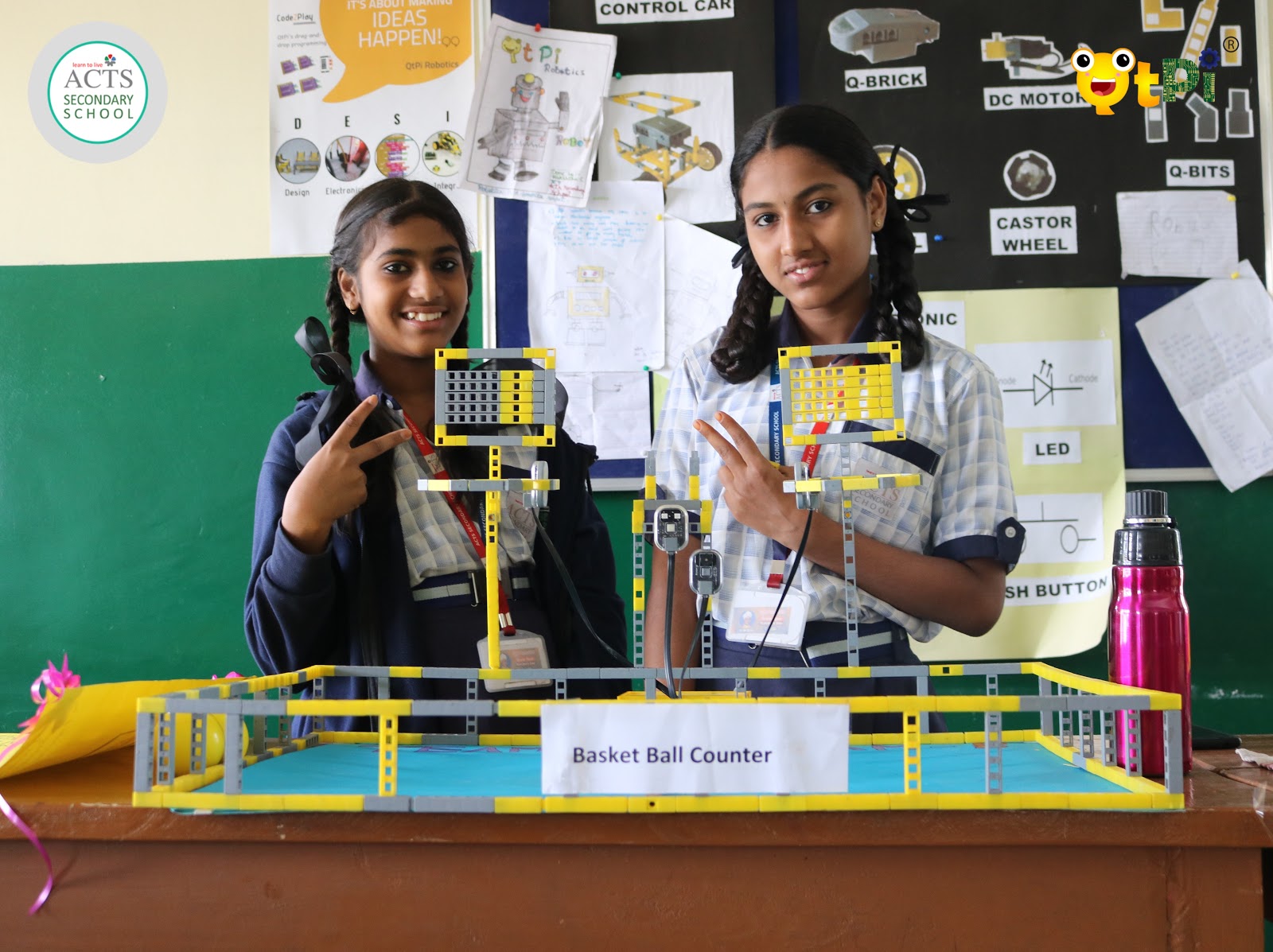 Students who made and presented the Basketball Game with automatic scoreboard
A kid admiring the Santa Bot made by the students of class 8B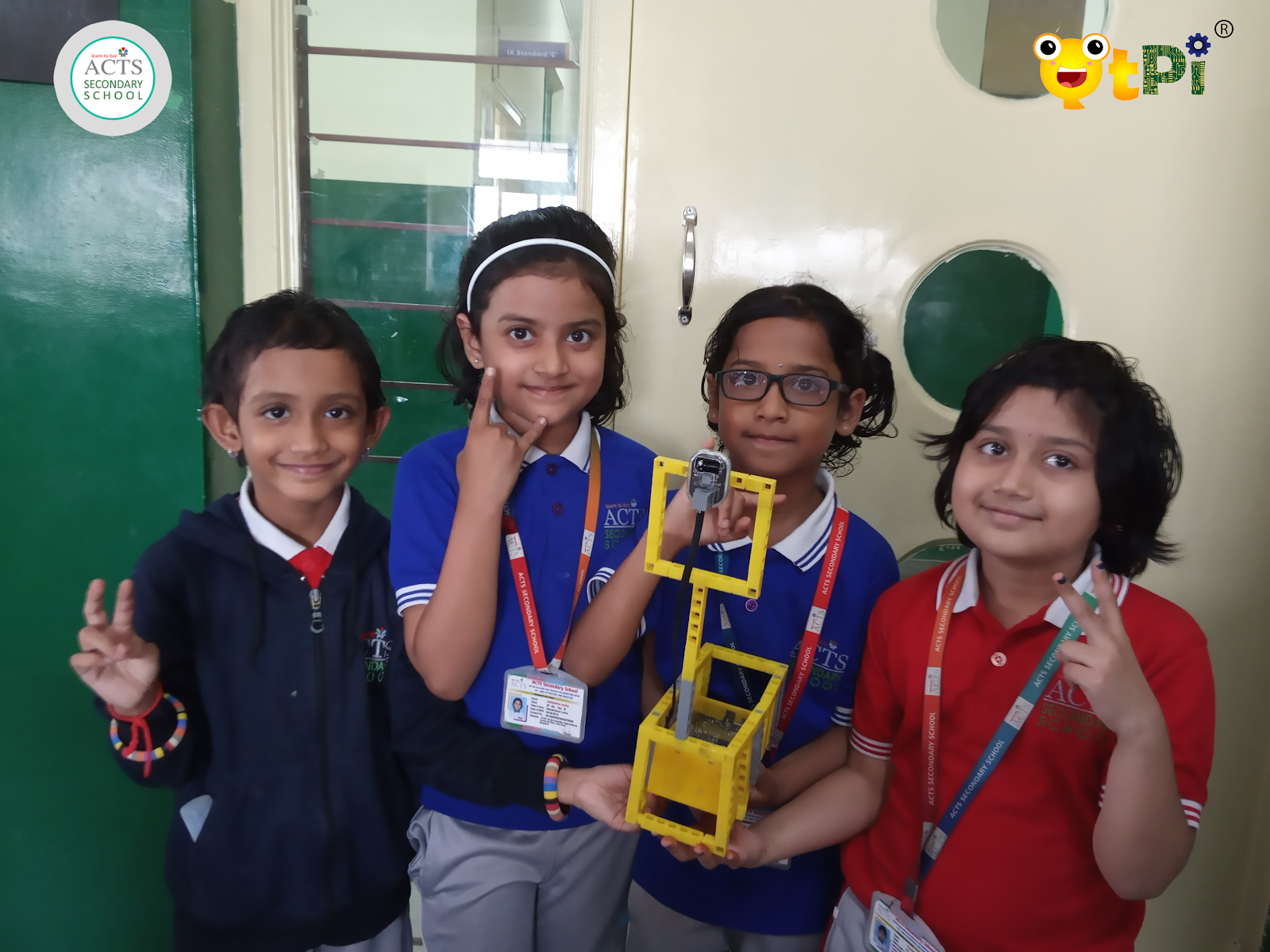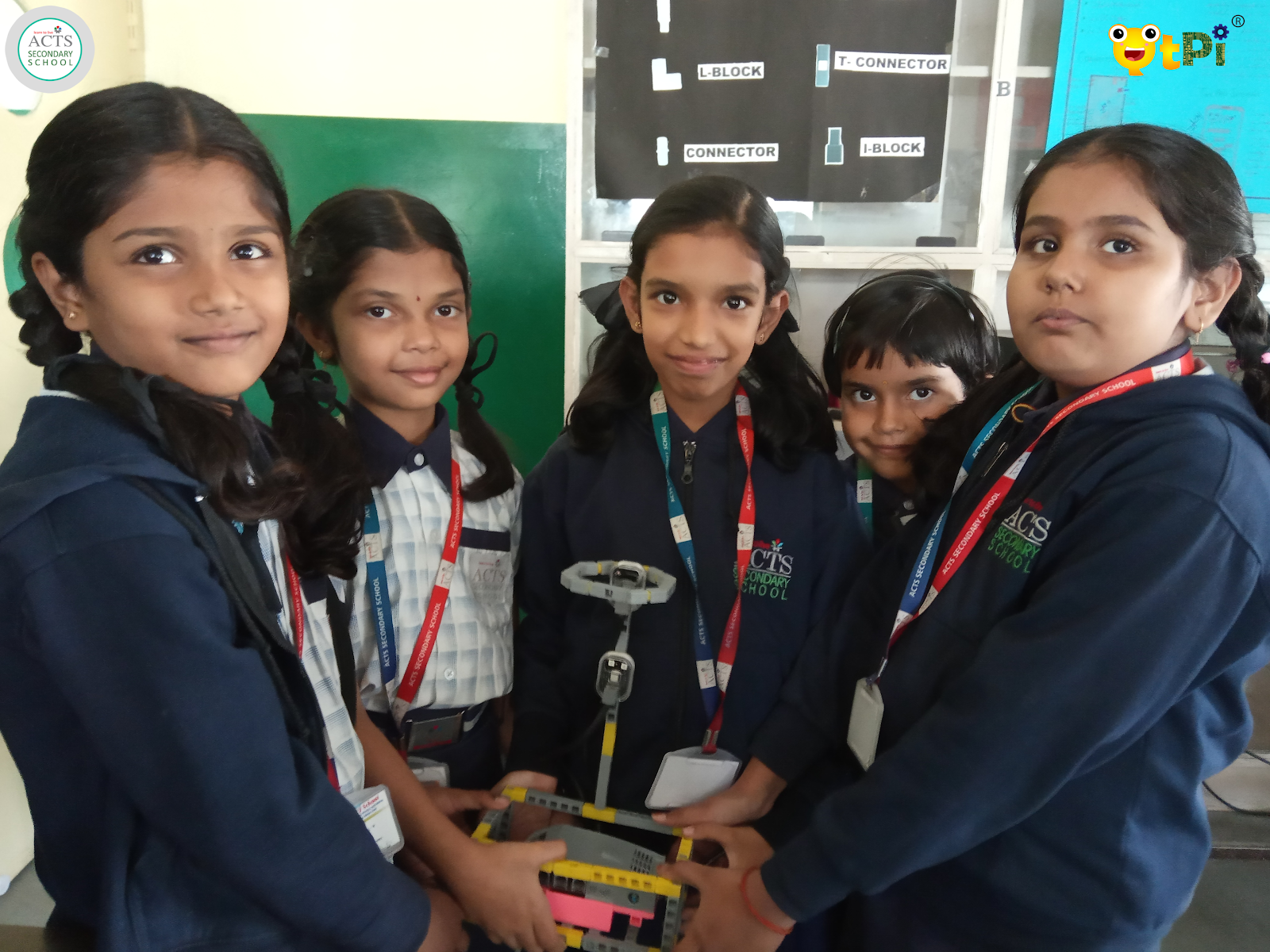 On the Occasion of Teachers Day students of class 9C had made a Wishing Bot to wish the teachers. They were successful in making the bot within a very short span of time. Mrs. Anupa Gnanaken, The Director of ACTS Secondary School liked their work and appreciated the students.
(Left) The Picture of the Wishing Bot made by students of class 9 'C'. (Right) Mrs. Anupa Gnanakan, Director of Acts group of Institutions experiencing the wishing bot with full of joy.
Girls of Class 9 'C' made the Teachers Day Wishes using the QBits which was posted on the social media platform on the occasion of Teachers Day.
A game stall had been put up over there in the school premises for the children to play and have fun. In the Robotics Stall, a BasketBall Game was set up with an automatic scoreboard. Children really
enjoyed while participating in the game.
Kids Enjoy playing Basketball game with an automatic Scoreboard
The Best Students of Class 9th had taken part in the Bangalore Tech Summit .They presented
their own prototypes with much enthusiasm. One of the Reporters from Deccan Chronicle was
much impressed and highly appreciated their innovative ideas. The students were also
interviewed regarding the same.
Article on Students Interview which was published in the deccan chronicle News Paper.
Students presenting the projects to the School Headmistress on the PTM day
The students were so excited to build their own prototype in a playful manner thereby expressing the joy of plug-play-innovate
Students cast their votes for their favourite chocolates in the voting machine
ACTS SECONDARY SCHOOL
15 KM, Hosur Road
(Next to Audi Showroom) Bangalore,
Karnataka – 560 100
Telephone: 7411070156
Email: principal@actsschool.in
Website: http://actssecondaryschool.in/