About Us : QtPi was established in 2016 and since then it has collaborated with 40+ schools, providing training in Robotics and STEAM. QtPi has achieved significant results across the schools it is collaborating with by providing not just theoretical knowledge but also by providing practical and hands-on experience with the kit provided by it. In 2019 QtPi had stepped in Bidar by collaborating with one of the prestigious schools, Guru Nanak Public School.
Vision : "Our vision is to make children think innovative and come up with various solutions to the day-to-day problems using technology and Robotics, Inherit the knowledge and apply it in various fields and come up with distinct and innovative ideas to improve the quality of life and for the betterment of society in a sustainable way".
Mission: "To introduce emerging technologies in Robotics and make students come up with their own ideas and projects based on their learnings, promote e-learning pedagogy and lead the teachers and students towards a better teaching learning process."
Moto: "Our motto is "Take on the world!!" As we always encourage our students to dream big, we wish to instil the quality of aiming high in our children's minds."
To Know about [QtPi Robotics] (https://www.qtpi.in/)
In the Annual Science fest 'Eduvista' which is a 2 day event, many students came up with projects from distinct backgrounds and they had put tremendous effort in this event and made it successful which received a huge appreciation from Management, teachers and Parents
These are few of the stunning and Innovative projects developed by the students which pleased Parents, Management of GNPS and Guests of Honour.
In the INSPIRE Awards - MANAK (Million Minds Augmenting National Aspirations and Knowledge), being executed by DST with National Innovation Foundation – India (NIF)
Out of all nominated ideas by all the schools throughout the Nation ,the best ideas were shortlisted and given a reward of 10,000/- INR through DBT scheme .
So, 1 Project ideas from GURU NANAK PUBLIC SCHOOL (DEV BRANCH) was shortlisted and selected at District Level Project Exhibition Competition and given a reward of 10,000/- INR
Student who got selected: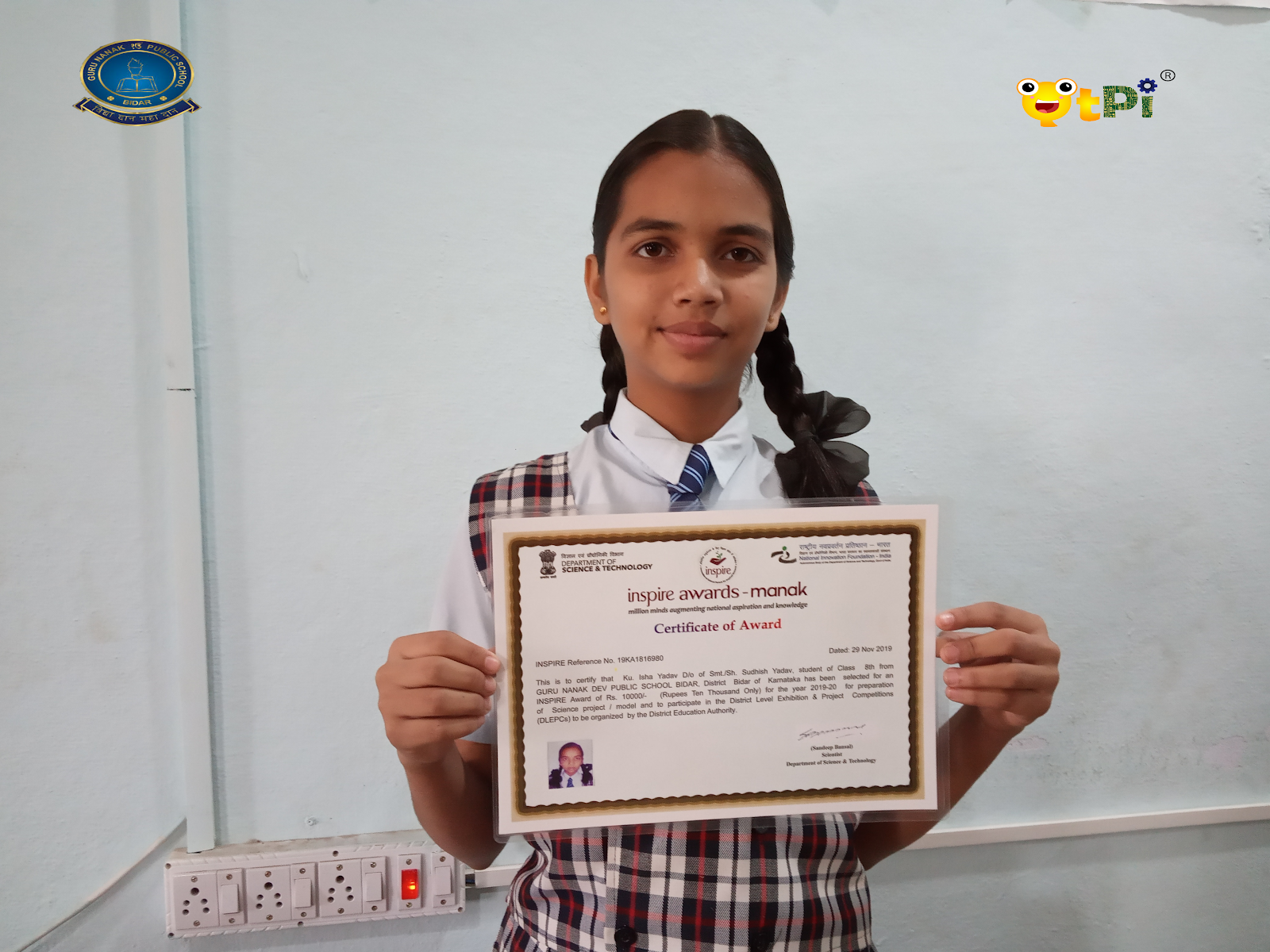 Students from 7th grade got the first price for the project "HOME AUTOMATION WITH WHEELCHAIR"
Student's put up stalls to display Robots and explained the process of developing these projects. Parents too participated with equal interest in this meeting. Thus this Parent Teacher meeting turned out a family bonding event as both Parent and children sat together to build Robots.


Students gave a presentation in assembly about RC CAR WITH INDICATOR PROJECT which they learnt in robotics class.
Annual exam for robotics was conducted on 29th feb for the grades 3-9
QtPi robotics Team has endeavour tremendous effort On Project Day in GNPS Main Branch.
Students Participated in Eduvista and Presented Stunning Projects which pleased Parents and entire management of GNPS.
| | |
| --- | --- |
| Home automation with wheelchair | |
| Music rhythm dancing lights | |
SHEEMA of 9th std from dev branch participated in the event as a press reporter.
PADDLING MOBILE CHARGING MACHINE